Making the Web Human-Centric? New Directions in the Web and AI
Thirty years have passed since Tim Berners-Lee's inception of the World Wide Web. Today, an increasing range of voices are calling for reflection on how well the Web is serving society.

As Berners-Lee put it in his 2019 open letter on the future of the Web, while the Web has created some wonderful opportunities, giving marginalised groups a voice and making our daily lives easier, it has also created opportunities for the spreading of misinformation, hate and crime, and the construction of systems which are more about process than people.

It is time to ask: can the Web be reimagined for the public good? Can it be made more human-centric, and if so, how?

The ​12t​h International ACM Conference on Web Science in 2020 (#WebSci20) is a unique interdisciplinary conference facilitating creative and critical dialogue with the aim of understanding the Web and its impacts and reflecting on the most pressing questions facing the Web. It will take place online 6-10 July.

#WebSci20 welcomes participation from diverse fields including (but not limited to) art, anthropology, computer and information sciences, communication, criminology, economics, geography, health sciences, humanities, informatics, international relations, law, linguistics, philosophy, political science, psychology, and sociology. Following the tradition of earlier conferences, we encourage contributions that cross traditional disciplinary boundaries.

The community engages with novel and thought-provoking ideas and discusses original research, work in progress, analysis and practice in the fields of Web Science.

This year we also particularly encourage contributions on the interrelationships between the Web, AI and other new digital technologies, exploring current theoretical, methodological, and epistemological challenges as well as the practices of individuals, collectives, institutions, and platforms.
>> Link to all papers at ACM WebSci'20 proceedings <<
>> Link to the companion proceedings (workshops) <<
>> Link to Best Papers and Best Presentations <<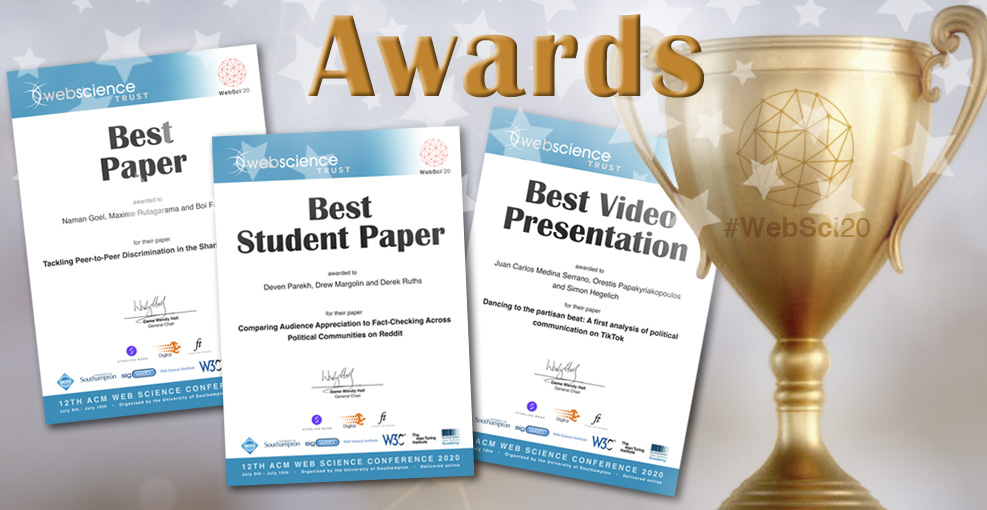 Tweets by WebSciConf
CORONAVIRUS UPDATE
The ACM Web Science Conference will this year run as an online conference, where presenters will be able to present their work remotely to the online participants.
The Conference Committee sends its best wishes to you and your families during this challenging time.